What to Expect on Your Adventure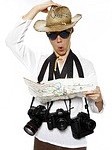 No matter what island of Hawaii you are traveling to — Maui, the Big Island, Kauai, Lanai, Oahu or Molokai — you are in store for a truly amazing experience. I am sure that you have heard from others who have traveled to the Hawaiian Islands just how wonderful they truly are, and I am sure that you have also gathered a few tidbits of information about what to expect when you arrive at your destination. Of course you have; why else would you book a trip to these amazing islands?
As someone who is very well traveled in Maui, as well as all of the islands of Hawaii, I would like to share my two cents on what to expect when you visit these islands. So, keep on reading to find out my take on what you can expect.
You can certainly expect a warm and welcoming greeting to the Hawaiian Islands. As soon as your plane touches down, you will be greeted with leis and welcomed with the warm smiles and gestures of the locals. Away from the airport, you will also find that the people at the hotels, at the shops, at the attractions and well, just anywhere you go, will welcome you warmly to the islands. These people really love where they live and want to share their enthusiasm for the beauty of their home with you. This warmth is really quite infectious, too. I find that each time I visit, I instantly become happy and overjoyed.
You can also expect to find a really low key way of life. In Hawaii, people really enjoy each day to its fullest. Hawaiian's recognize that life is not all about work, keeping schedules and running form one place to the other. They realize that if you are busy making other plans that you will miss the joy of the day that is before you. When you arrive here, you will also find that you will take on this attitude yourself. You will feel peaceful and totally in tune. It's really quite amazing.
Lastly, you can expect to find some of the most amazing landscapes that you will ever see. I don't think that there are any words that can fully express the beauty of the landscapes of each of the Hawaiian Islands. From active volcanoes to lush rainforests, from cascading waterfalls to pristine beaches; everywhere that you turn you will find sheer beauty.